We develop and manufacture ultramodern air handling units with low energy consumption and high operating reliability.
Our AHUs contribute to healthy air in all types of indoor environments, from homes, offices and production plants to large public buildings and facilities.
Our air handling units meet the requirements of the EU's ErP Directive. Our business is based on customer focus and flexibility, with excellent opportunities for customized solutions. We have long-term collaborations with our suppliers to develop the best technical solutions.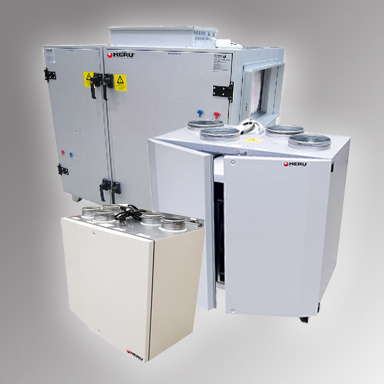 ENERGY RECOVERY UNIT 150–6,000 m3/h
The features of our HERU® energy recovery unit are high efficiency, low energy consumption, low noise level and high reliability.
HERU® recovers up to 84% of the energy that is otherwise lost in systems that only run exhaust air ventilation.
HERU® is available with an AC or EC motor, and features a fan wheel with backward curved centrifugal impellers.
There are two HERU® models: the S-model, which is insulated on all sides with 50 mm mineral wool and can therefore be installed in both hot and cold locations. And the HERU® T-model, which has a little less insulation and is therefore more suitable for installing in warm locations.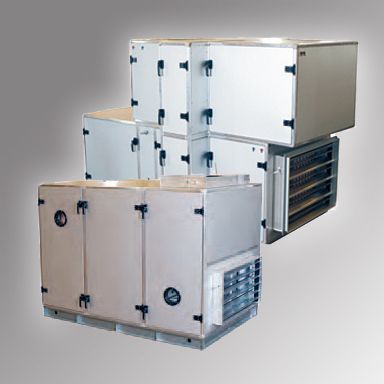 ENERGY RECOVERY UNIT 6,000–108,000 m3/h
Our larger energy recovery units maintains the highest level of quality and lives up to the stringent demands for low energy consumption, high efficiency and extremely low noise level. What is more, it is a compact unit that can easily be adapted to small spaces.
Our compact ventilation units, HERU® 400–2400, are easy to install and take care of – as well as being highly service-friendly. This also applies to our MODUL and FLEX ranges, whose models are adapted specifically for each installation. Effective control and regulation systems assure efficient energy recovery.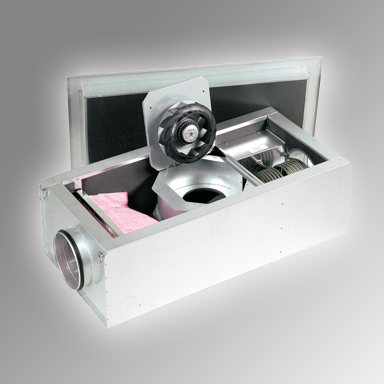 SUPPLY AIR UNIT
The SAU supply air unit is used to provide a pleasant indoor climate, supplying both heating and clean air. The unit is supplied complete with filter, fan and heater. All units feature built-in control, and the heater can even be adjusted externally via pulses.
Air flow up to 800 m3/h (0.22 m3/s).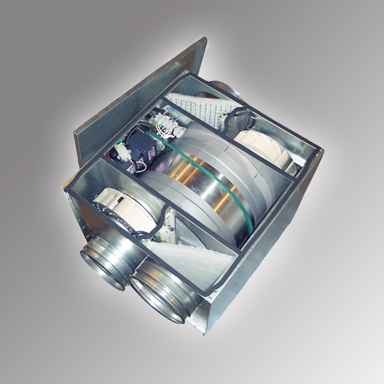 CRAWL SPACE VENTILATION
Using our TERU crawl space unit – featuring both heat and cooling recovery – makes it possible to improve ventilation and maintain an appropriate temperature in crawl spaces during winter and summer alike.
TERU is a simplified version of our HERU® heat recovery unit, intended for positioning in crawl spaces to remove moisture or radon.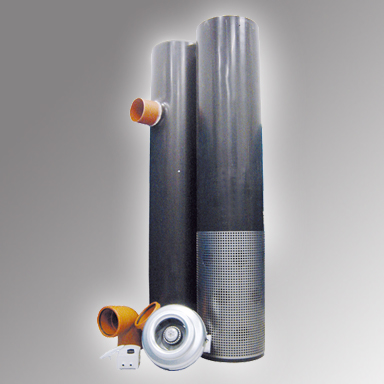 RADON WELLS
For properties built on air permeable ground such as gravel ridges, radon wells are far and away the most efficient solution for lowering air pressure in the ground and preventing radon from entering the property.
The radon well kit comprises: ground pipe, pipe bends, BSV safety grille, transformer, duct or radial fan.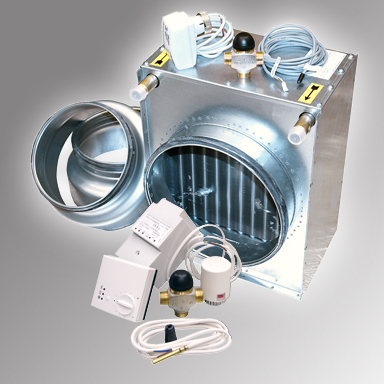 ACCESSORIES
We have prepared a range of product-specific accessories such as a post-heating kit, fan covers and a regulator package designed for HERU® and SAU units. These accessories are also available separately.